Our Technologies
Masters of pistons and piston rings processing.
Advanced technology. The high level of the processing cycle at Meteor is the result of continuous investments in new machinery selected from the most important brands in the world in order to obtain the best tolerances and finishing properties in the final product.
Expert staff. As well as the advanced technology, human resources represent the key of the quality of our products: the expertise of our trained operators, our technical staff and engineers fulfil our machinery and instruments for a complete know-how in pistons processing.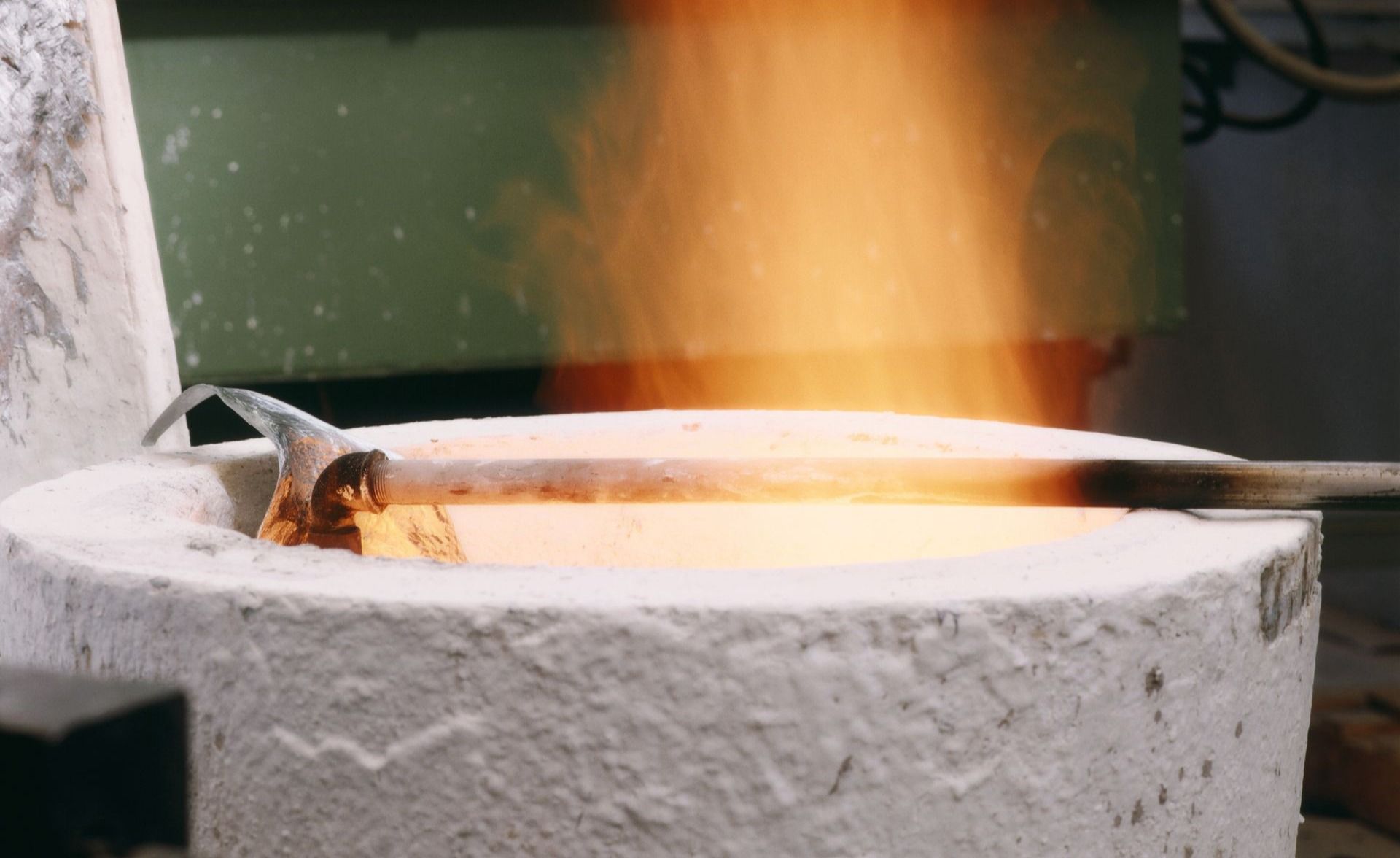 Material selection and preparation
Raw materials that we use, from the ingots of aluminium alloy to special molding tool coatings, are the best available; this is the result of years of research and testing. Aluminum alloys are guaranteed by certificated suppliers and verified by regular visual inspection and metallurgical analysis. The entire foundry processing takes place in-house, starting from the alloy preparation phases to molds setup and pouring.
Degassing involves making use of inert gasses such as nitrogen in order to eliminate the presence of hydrogen in the molten aluminium, which singularly serves to reduce the risks of both shrinkage and gas porosity defects.
Molten metal is accurately prepared following crystal and well-rehearsed procedures for a high quality pouring material. Special instruments are used to ensure the correct execution of correct operations. Each oven is equipped with a real-time temperature control.
Gravity Casting
Our foundry department has six electric ovens with a total capacity of 1800 Kg of molten metal each day. Moreover we have automatic, semi-automatic and manual machines that allow us to be flexible and handle a wide variety of batch size and guarantee quality of each single product.
Our molding tools are designed, engineered and generally built internally. Besides we use external manufacturing workshop specialized in piston molding tools building. Molding tools are ever 100% tested and the whole casting process managed thanks to a customized software and special instruments for temperature control.
Some further developments will be soon implemented with a new robotic automatic work unit.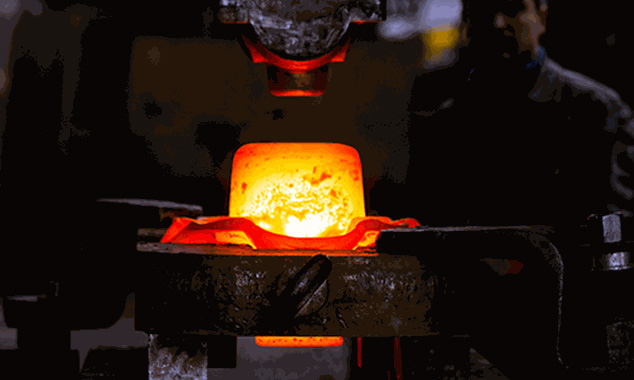 Forging
Our molding tools are designed and engineered internally and built in co-operation with our specialized suppliers.
For forged rough parts supply we rely on trusted and experienced Italian partners, focusing on long-term relations and technical cooperation to gain the best results in terms of service and performance.

High quality materials are selected in order to obtain the best performing end product.
Heat Treatment
All our rough products are subject to T5 /T6 heat treatment (Quenching and Ageing) to get the best structure uniformity, purity and high resistance to piston wear.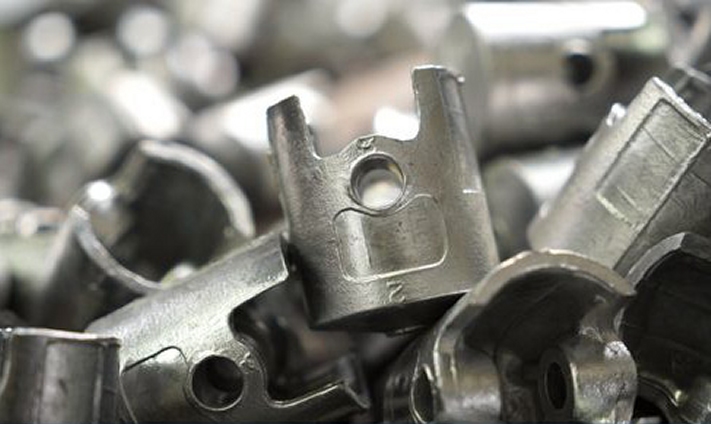 Top technology full CNC lathes
For all startig turning phases and the most delicate rings grooving.
Automatic cycles and high technology tools.
Maximum precision of pinhole machining
All-in-one CNC boring of pinhole and related operations (chamfering, grooving, facing) to guarantee perfect coaxiality.
4-axis CNC working centers
For piston complex head milling of 4-strokes forged pistons and 4-strokes gravity cast pistons.
Special contouring of bottom internal architectures crowns of 4-strokes forged pistons.
CNC Diamond turning machines
Last-generation machines executing the most complex armonic and non-armonic shapes and special profiling.
Special fixtures and machines
For particular processes (drilling of rings anti-rotation pins, rings's assembling), designed, engineered and set up internally by our Machines Division.
In case of particular applications, as the racing world, some pistons require special surface coatings or treatments to reduce friction or protect the piston's head from high temperatures in the combustion chamber.
We rely on our internally-designed plants for:
Molybdenum disulphide coating
Molybdnemum screen printing
Ceramic head coating
Tin plating
Oxidation processes are made by external trusted suppliers.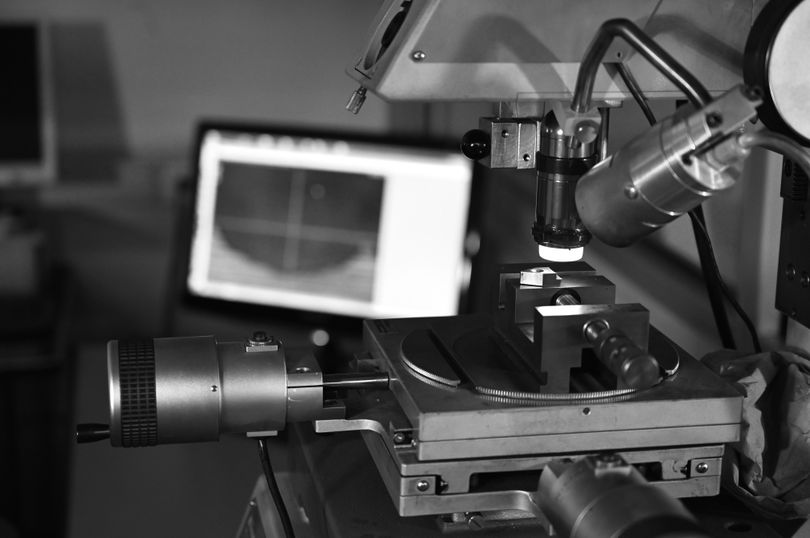 Quality
Through years we've structured an internal sampling quality inspection protocol to ensure every batch of pistons to have the desired quality level. We keep investing in ultimate tools to improve what we proudly feel is our products main feature: quality.
Our Metrology lab is equipped with latest generation instruments specifically addressed for the measurement and test of every dimension and shape of the pistons we produce; a new 3D vision system has been recently introduced for the analysis and reverse engineering of cylinders heads for the design of perfect fit pistons.
We make metallurgical analysis relying on a specialized partner laboratories:
Metallurgical and micrographic

analysis of Aluminium alloy and cast iron piston rings.

Radiographic analysis.
Nikasil coating layer analysis.
Warehouse and Logistics
Fast service and flexibility are keywords of Meteor service.
Deliveries of stock products are organized in short time and pistons at processing are released in few weeks thanks to the stock of cast and semi-finished products.
The optimization of the logistics is another important feature Meteor Piston has lately invested in: by installing two Modula automatic vertical magazines we wanted our logistic processes to be faster and better integrated with the production and planning departments.
This allows Meteor Piston to be fast and flexible also in short-terms delivery and small batch quantities production.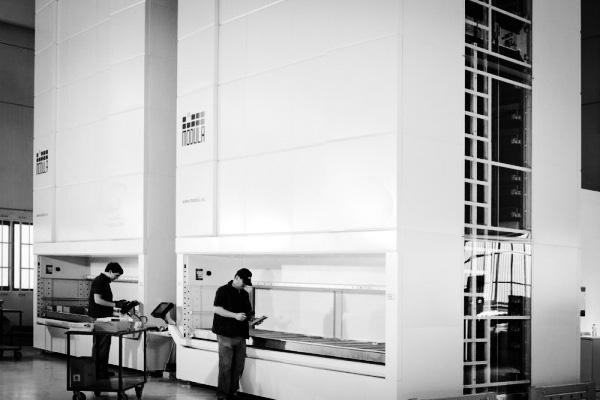 PISTON RINGS PRODUCTION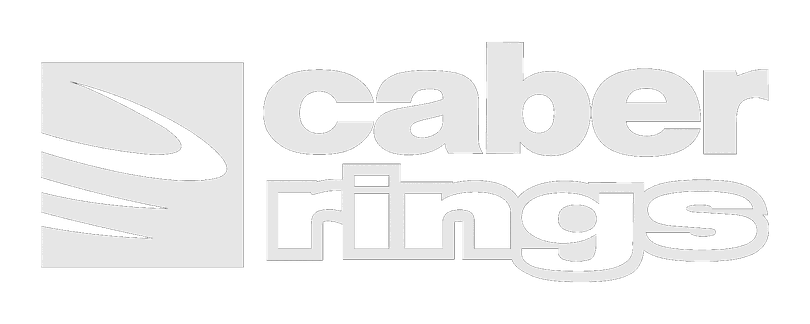 Not just a ring. Behind a piston ring there is a high amount of design and engineering work. Not simple as it seems. Stable geometries, appropriate tangential loads (vedere come definire i carichi giusti), fine machining, perfect joint milling, right gap sizing: all a matter of expertise and experience.
High quality materials and high precision machining. Caber piston rings are processed with the best technology in piston rings machining today available and are originated from high quality cast iron materials.

RAW MATERIAL SELECTION
Starting from single cast blanks, Caber piston rings are cast as individual rings in non-circular shape.
We start producing from rough rings that almost have the dimensions of the final product and this allows to have an outstanding stability of the end product.
A great variety of raw material is needed, compared to the simplified system of other technologies - like cast iron tubes that are splitted in rings and reshaped by thermal deformation.
This means that Caber has an immense stock of raw material to cover a wide range of piston rings dimensions and materials: this is what gives us a great flexibility and a fast processing time in order to guarantee short delivery times.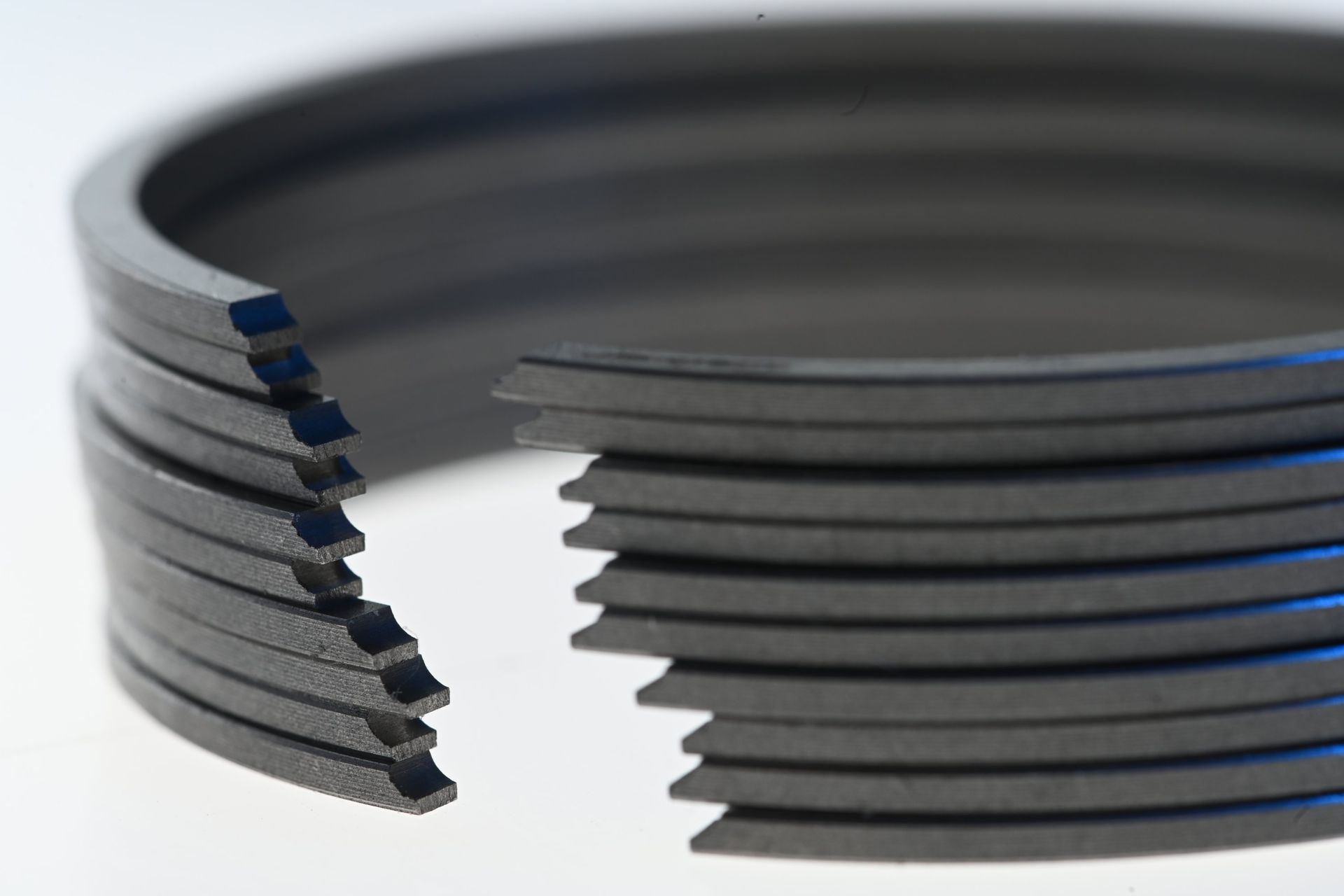 Double oval turning
The performance of the piston ring is primarily guaranteed by this operation. Rings are machined to the required shape by means of double cam turning, a process in which the ring blank, already axially ground, is copy turned simultaneously on the inside and outside diameters. A segment of material equivalent to the free gap is then cut from the ring which assumes the free shape that will give it the required radial pressure distribution when fitted into the cylinder. Once inside the cylinder the ring is completely light tight on its outside diameter and exerts the predefined radial pressure against the cylinder wall.

Multi-axis CNC turning special machines

Special multi-axis (up to 7-axis) CNC machines designed and engineered by Caber for the best and most accurate piston rings processing: profiling of the running faces, taper facing, napier, oil control rings grooving, internal finishing, internal and external chamfering, internal grooving, all performed simultaneously to guarantee rings' coaxiality.

Gap sizing

Milling and grinding machines for accurate and precision gaps adjusting.
Special joints milling

As well as the straight cut joint rings or the two-strokes joint with internal or external notch, piston rings can be manufactured with hook joints, overlapped joints or angle joints even in small dimensions for compressors, hydraulic cylinders, and different equipments in the automotive control units (steering, transmissions).
Lapping and pre run-in

Piston rings which need to run at high speed immediately are usually subject to lapping into a special machine to simulate a run-in into the engine and let them be smoothed and ready to perform into the engine at maximum speed.

Laser marking with automatic top-face up-orienting

Rings with top-side face are automatically oriented for the correct marking.
CNC Oil ports slots milling and oil holes drilling machines

On purpose machines for the execution of oil ports on slotted and drilled oil control rings.
Keystone and half-keystone grinding

Machine specially designed for angle grinding of half-keystone (in one phase) and keystone (in double phase) piston rings with two separate axis drive for fine feed of the grinding with resolution 0.001 mm wheels and state-of-the-art CNC control system.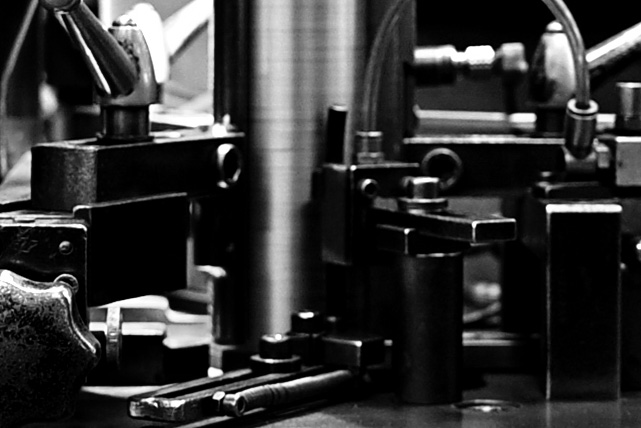 Dedicated tooling
Almost every size of ring needs specific tools and fixtures on each machine for the precise execution of the correct working parameters.
A huge amount of tools is therefore stocked in a vertical magazine and organized in groups combined to the work orders.
Quality
Quality control plans during the processing and final quality check are performed for all the rings produced by Caber.
A fully equipped metrology room is available for deep analysis of all piston rings features and loads to test rings compliance with the designed parameters.
Last generation instruments allow us to check profiles and surface roughness with high precision and multiple data output.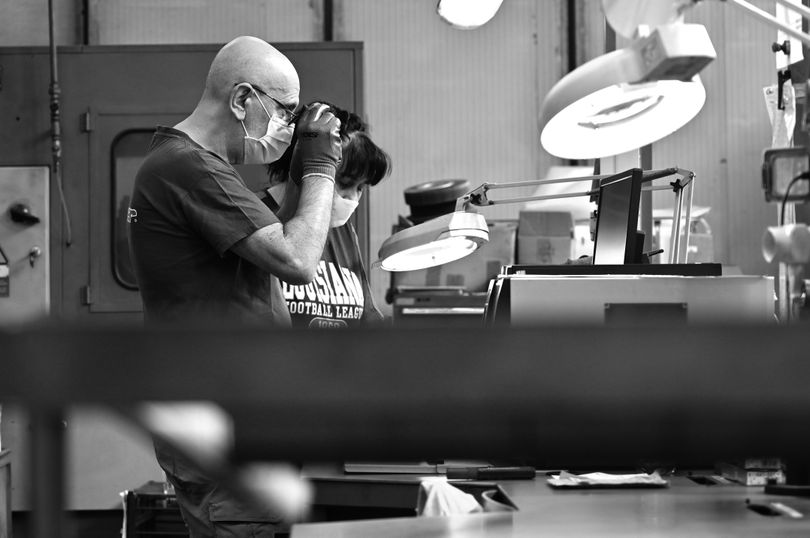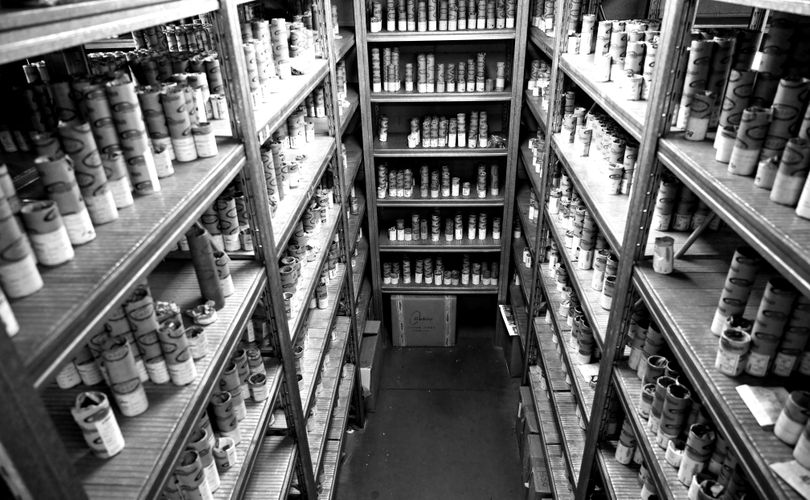 Warehouse and Logistics
Fast production and fast deliveries are guaranteed thanks to the large stock of raw materials and finished piston rings available in our warehouse.